3 Key Reasons Why You Should Manage Change Requests with Your Contractors from a Single Platform
Here are 3 reasons why you should streamline change request management with your contractors and make the most of the contractor force by managing them with a single platform.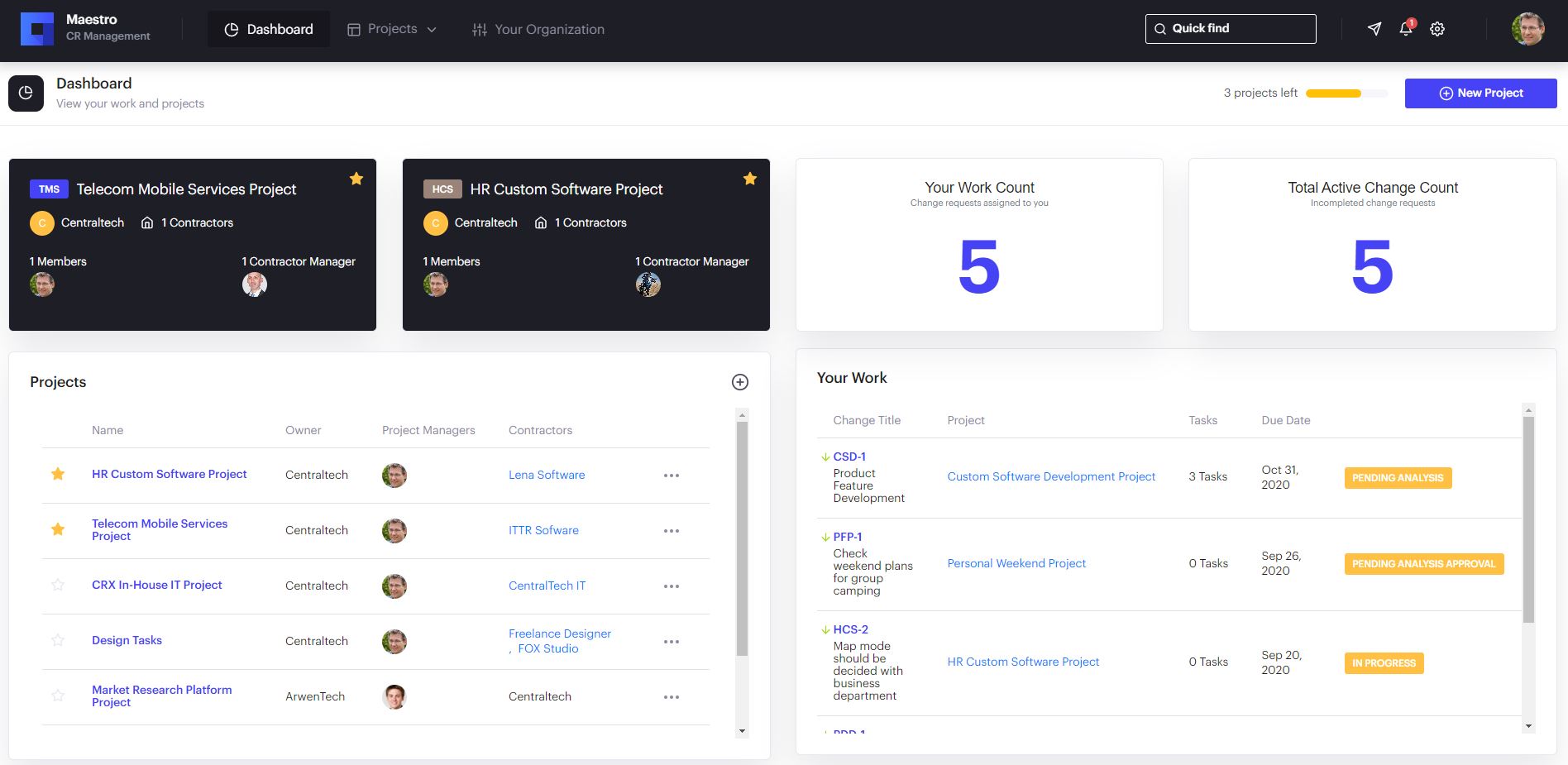 3 Key Reasons Why You Should Manage Change Requests with Your Contractors from a Single Platform
In a period of time defined by the acceleration of change and enabled by a developing technology, most innovative businesses and organizations are starting to develop a new collaboration system. Innovation and business strategy experts all around the world are now advising more companies to collaborate with external companies and freelancer teams to stay competitive.
As more companies choose to work with contractors as solution partners, in many cases multiple contactors to stay ahead of the game, the questions become "How do you manage them? How can you design collaboration structures for effective project outcome when there are multiple partners involved in the project development?"
When working with external parties on a project, companies must ensure that communication is clear, which can be especially important when people from different cultures are involved. Managing multiple parties is often compared to herding cats, and managing multiple external contractors can be twice as hard. Especially when it comes to managing the change request processes in your projects. A single platform to manage all the contractors holds the key to success.
Here are 3 reasons why you should streamline change request management with your contractors and make the most of the contractor force by managing them with a single platform.
Communicate with your contractors easily and accelerate your productivity
Change requests are an inevitable part of any project. When you have more than one contractor as your solution partner, managing change request processes can become even tougher. Ask five companies to name the one factor critical for the success of their projects, and you'll probably get the same answer. When you have multiple parties working in your project name it freelancers, in-house teams or external companies, it can be a little tricky to keep all the communication running in an efficient way.
Most successful companies have already started putting a process in place at the start of the project to handle change requests. They make plans to be smooth enough to cope with the requests, without excessively affecting the final outcome. And, this all starts with managing communications smoothly from a single screen.
Once you have a powerful change request management solution, such as MaestroCR, embedded to your own project management tools, you can make it easy to communicate with your contractors and accelerate your productivity.
Having the ability to add as many as contractors within your company as solution partner in an easy, organized fashion helps you see the big picture, keep all of them on the same page and prevent communication bottlenecks.
On top of these, when your in-house team easily connects and interacts with your contractors also help you to boost the team spirit. By now, most organizations now that customer experience is queen but it's the team members experience that paves to a successful customer experience. Without a doubt, happy teams make happy customers.
Avoid wasting time and effort to handle change requests
Managing and organizing a number of different people within a project is a challenging task– and when there are multiple contractors involved, on top of the usual challenges, you'll need to manage 1) people you probably haven't met face-to-face, 2) manage people from a distance and 3) manage all their change management requests in your project in a stress-free way.
These can be time-consuming and tiring in many ways when done in an inefficiently. The key to avoid wasting your valuable time on excessive change requests is about having a single platform to keep tabs on your contractors. MaestroCR allows you to maintain focus on a single task without feeling overwhelmed. It provides you a simple way to enter as many external companies within your organization, even add your contractors' man/day prices –if applicable and overcome any challenges associated with these steps.
This change request management solution isn't just another way to manage your CRs. Once everyone in your company starts using it, it becomes the thriving hub behind everything you do, the one place with the most details about all of your CRs.
It allows you to see the statuses of your CRs in your workspace along with the information of their estimated and completed efforts with the costs of them and enables you to work with external teams and partners in a secure space so you can achieve more together.
Make most use of an effective CR cycle
Anyone who works with external partners will stress the importance completing CR processes in an efficient way. Improving the way companies communicate inside their own walls is one thing, but when it comes to working with outside partners, we often fall back. That means more change requests to manage and barriers to getting work done quickly.
Starting from the request for a change to impact analysis, approval/rejection/revision to implementation until the review and approval, the whole CR cycle should work smoothly to make the best out of the projects. A sure-shot way to do that is by using the right change management solution. MaestroCR gives you to easily select CRs on a sprint/period, and create your invoice based on your effort and follow monthly efforts and invoices with its connected CR content.
Companies that work with contractors outside their companies need to manage their communications from a single platform and send all requests of their project in a healthy way so that they can complete projects faster.
Accurate and proactive change request management is required to keep the workflow of your projects on the right track. That helps you to keep each contractor in a single loop even the largest ones. And, we know that managing multiple contractors from a single platform changes everything.
See for yourself and give MaestroCR a try today.
Want to learn more about what we're building?
Sign up to our News!
Join our newsletter to get access to exclusive content, webinars and resources.
You'll know better, find better, we promise.