MaestroCR Launching PR Release
Lena Software Introduces MaestroCR, Enabling Companies to Manage Their Change Requests from a Single Platform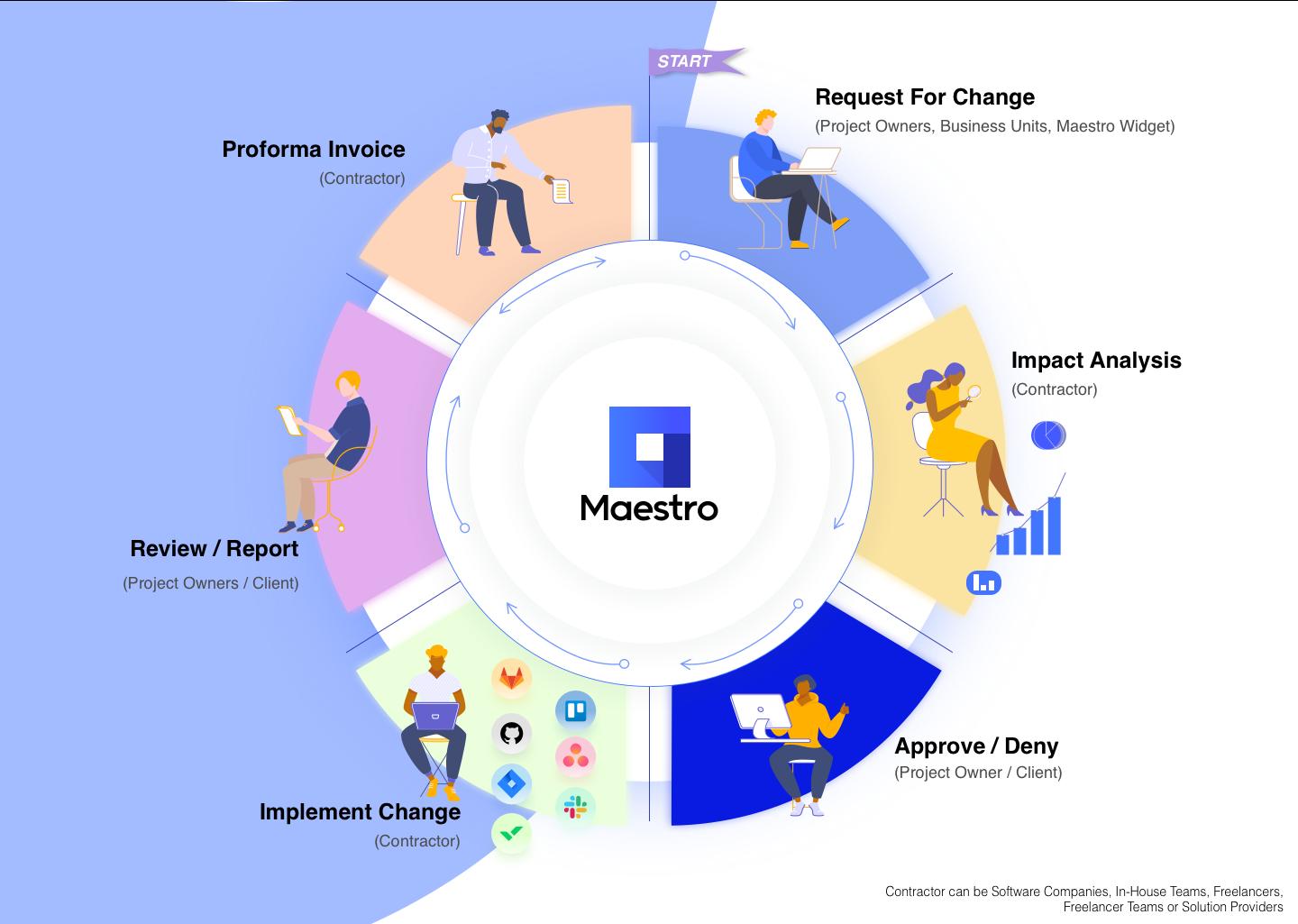 Lena Software Introduces MaestroCR, Enabling Companies to Manage Their Change Requests from a Single Platform
Helping companies to easily build a healthy change request management, between their projects and their contractors
London, United Kingdom – Lena Software today announced MaestroCR, a new Change Request Management Solution that allows businesses to quickly and easily manage their change requests from a single platform. MaestroCR offers shorter correction, implementation and going-live periods.
The solution's real-time effort & budget tracking and end-to-end change process documentation capabilities empower companies to smooth the change request management, making it possible to increase the speed of implementation.
MaestroCR gives companies more flexibility & control over their change requests
Change requests are an inevitable part of any IT project. Even the best-planned projects might require changes, which could be something very minimal or big and costly.
With this streamlined digital change request management solution, all of the essential steps required in the change request process can be followed all in one place. The communication between multiple contractors, freelancers and in-house teams can be available for stakeholders to view all in a single screen. In addition to that, tasks can be quickly allocated and progress updates can easily be provided to the relevant teams.
The powerful change request management solution MaestroCR improves team communication during the whole CR cycle and ensures project and IT managers have timely information. Automated processes make everything painless and enable companies to easily manage all these change requests easily and securely. Once embedded in the project management tools, MaestroCR reduces back-outs, speeds up deployment and prevent service disruptions from reaching customers.
"With MaestroCR change request processes becomes much slicker. There is also less disruption to projects, as all the relevant information regarding the change is stored all in one place, accessible to all the parties involved," says Burhan Cetinakya, Co-Founder at Lena Software. "Without a doubt, MaestroCR gives companies more flexibility & control over their change requests."
MaestroCR Highlights
· Change request and contractor management from a single platform
· Extensive change request report access
· Improved project owner & contractor connection
· Real-time visibility
· Cross-team collaboration
With MaestroCR, change requests no longer have to be disruptive. Easy-to-use CR automation will provide great convenience for IT project managers and software development companies to seamlessly manage all the change requests in one place and lead their teams to success with speed and transparency.
For more information on MaestroCR please visit www.maestrocr.com
About Lena Software
Founded in 2001, Lena Software is a global solution provider that enables organizations to put technology at the heart of their transformation by building disruptive software products. With the passion of turning ideas into high tech eco-systems that deliver outstanding values, Lena Software aims to make a difference for everyone; including businesses, suppliers, partners as well as the end customers.
Lena Software has a high range of know-how & hands-on experience almost in every aspect of IT world, including Hardware, Embedded Software, Web, Mobile, Big Data, Data Analytics, Cloud Computing, Complex Event Processing, Real-Time Video Streaming, Performance/Load Balancing technologies utilized for unique business needs of our customers.
Want to learn more about what we're building?
Sign up to our News!
Join our newsletter to get access to exclusive content, webinars and resources.
You'll know better, find better, we promise.